When Isadora first annouced its fall collection for 2012, I had a feeling I'd be all over it. I was right!
Initially, I thought I'd end up getting them all, but once I saw them in person, there were some I didn't particularly fancy, so I skipped those. I got six of them: Beetle Green, Black Amethyst, Ancient Ruby, Oasis, Silk Road and Peacock.
I'm late showing them off, I know, I know. That's what happens when there's no internet connection to be had. These have been photographed and ready to go up since early November, but I haven't had the time or inclination to post until now. Oh well.
Speaking of time and inclination: I was kind of lazy when I swatched these as well. For most of the colours, I only did one nail, so I could get four in one go. Bad, nail blogger, bad.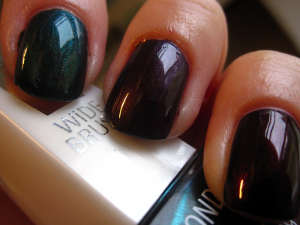 Beetle Green (index finger) first made its appearance for fall 2011, but since I wasn't into nail polish back then the way I am now, I missed it at that point. After drooling over pictures of it online, I was over the moon to see it back in this year's fall collection. It's a gorgeous blackened green metallic, quite reminiscent of a beetle (so good name choice, Isadora!). Two coats gives full cover.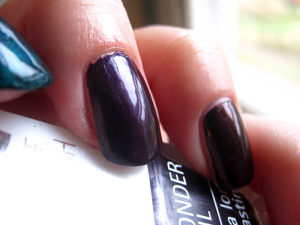 Black Amethyst (middle finger) is a deep blackened purple with a very fine silver shimmer suspended in the base. Again, two coats are enough for complete cover. If you're careful (which I'm not, usually), you might even get away with just one coat of this.
Ancient Ruby (ring finger) is a deep, deep blackened and shimmery red. Quite by coincidence, I discovered that it's, if not a perfect dupe, then at least very similar OPI's Every Month is Oktoberfest. Killed that lemming for me! One coat could be enough for this polish, but I like a second coat to really deepen the colour and make it look like my nails are glowing from within.
Oasis (pinkie) reminds me a lot of H&M's 0516 Black. Both are dark grey jellies with gold and blue microglitter. The biggest difference is that the blue glitters in Oasis seem to be duochrome and look purple from certain angles. The base colour also appears to be slightly darker at three coats, which is what you need for full cover. (And if you let it dry properly before trying to do things with your hands, you don't get unsightly marks ruining your polish. ::cough::)
My favourite in this collection is Silk Road, which is a blue/purple duochromatic glitterbomb. So gorgeous! I really wish photos did this one justice, because oh my! In the bottle, it doesn't look all that special at first, but then when you get it on your nails — oh dear! First time I wore it, I went around showing it to anyone who'd look for just a second.
As the base is a jelly, this does require three thin coats to fully cover any VNL, and you have to wait a little while between coats unless you want cuticle drag. Those minor inconveniences aside, this is such a stellar polish! I think it could possibly be a dupe for OPI's On Her Majesty's Secret Service, or at least it's very similar.